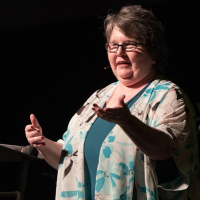 Faye Bryant
Historical Fiction, Christian Fiction, General Nonfiction, Christian Nonfiction, Religion & Spirituality
Profession

Author | Speaker | Coach
"I was born at a very early age and started telling stories soon after." Faye Bryant

Faye grew up hearing the stories of her family and has used those stories of life and death, betrayal and reconciliation, faith and family to create the Grandma, Mom, and Me Saga.

She is also the author of "Ramblings from the Shower | Integrity, Faith, and Other Simple Yet Slippery Issues" and has recently published a devotional ebook, "Coffee, Bible, Journal: Musings from the Comfy Chair with a View."

Faye struggled under the weight of many layers of a past that kept her hidden and helpless. All that has changed. She is the founder of Build a Better Legacy, dedicated to helping those held captive by past family trauma or choices to grow past surviving to thriving.

Faye and her husband Jack live in a beautiful valley in the Smoky Mountains.
Video
Louise | Book 1 of the Grandma, Mom, and Me Saga
The Ones Who Are Crazy Enough To Think That They Can Change The World Are The Ones Who Do.
Steve Jobs
The weak can never forgive. Forgiveness is the attribute of the strong.
Mahatma Gandhi
It takes one person to forgive, it takes two people to be reunited.
Lewis B. Smedes
Content makes poor men rich; discontent makes rich men poor.
Benjamin Franklin
Forgiveness is the key that unlocks the door of resentment and the handcuffs of hatred. It is a power that breaks the chains of bitterness and the shackles of selfishness.
Corrie ten Boom